Even today thousands of people across the world, who own pets especially dogs and cats wonder if they can travel with their furry friends! Well, traveling with your pets is very much possible. Today more and more airlines are making arrangements for passengers to travel with their pets especially dogs and cats on board.
But, unfortunately, there are very limited resources and information about 'how to travel with your pet?' on the internet. So we are here to help you out.
IATA Live Animals Regulations (LAR) lays down the requirements to be met while traveling with pets on board. In addition to this some countries and airlines also have their own specific requirements for the carriage of live animals. This why it is very important to check the specific procedures that will apply to your trip with the airline directly.
Never the less reading this article will give you an idea of the general requirements to be met.
In general, small inoffensive domestic pets such as dogs, cats and birds, accompanied by valid Health and Rabies vaccination certificates, are accepted on flights; in the cabin or in cargo hold at owner's risk and subject to requirements of the carrier depending on the regulations of the country of destination.
Such carriage is again mostly subject to approval of the commander of the flight.
1.0 The following are the requirements on almost all flights:
1. The minimum container, packaging and handling requirements as published in the IATA Live Animals Regulations must be met. These regulations prescribe the materials to be used, size, frame, etc.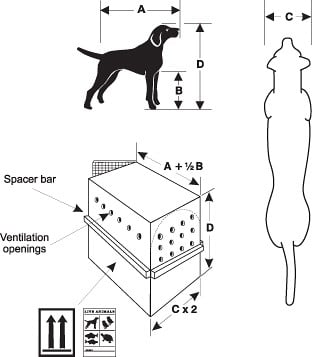 The calculated dimensions are internal container dimensions.
A = length of animal from tip of nose to base/root of tail.
B = height from ground to elbow joint.
A+ ½ B = length of container.
C = width across shoulders or widest point (whichever is the greater).
C x 2 = width of container.
D = height of animal in natural standing position from top of the head or the ear tip to the floor
(whichever is higher) / height of the container (top flat or arched)
Minimum internal container dimensions:
A + ½ B = Length
C x 2 = Width
D = Height
2. The container should be escape proof, leak proof and of the proper size.
3. It should have ample ventilation.
4. The container must be strong i.e. not of chewable material.
5. Each animal in the container must have enough space to turn about easily while standing and high enough to allow it to stand and sit erect and to lie down in a natural position.
6. The cage must be properly secured.
7. Properly carried in a container/kennel which should be made of non-chewable material with smooth edges and properly ventilated in the prescribed size. (Kennel size not to exceed 18″ x 18″ x 12″).
8. Pets are usually accepted on a one to one basis per container. However, two small pets of the same species and the same owner can share a container if they are between 8 weeks and not weighing over 10 Kgs each, or, a mother with offspring of fewer than 4 months.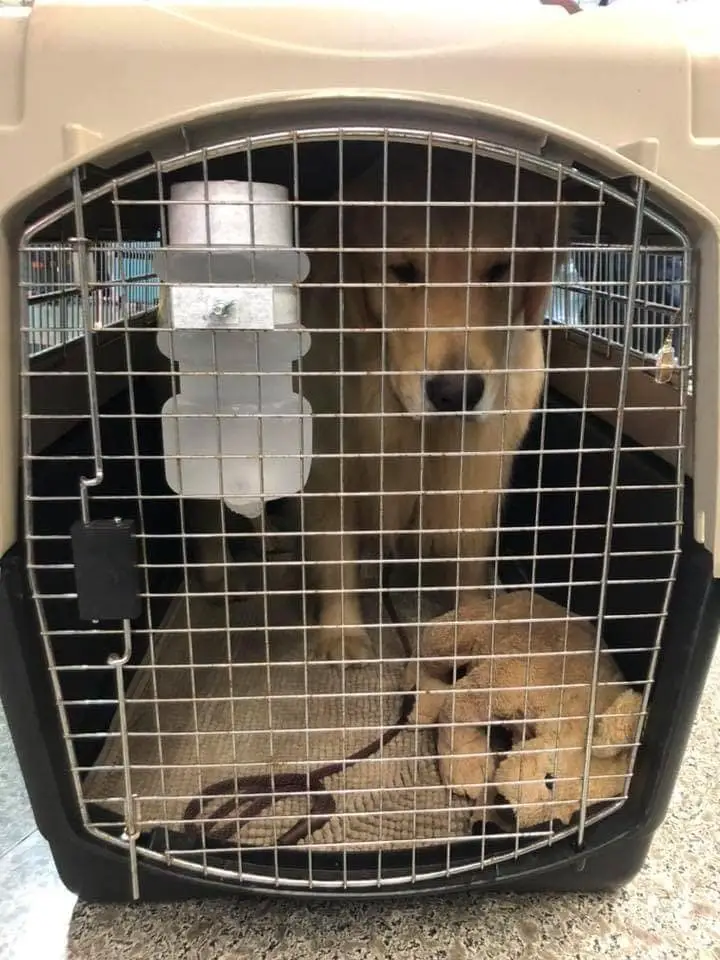 9. The pet must have valid health and rabies vaccination certificates along with entry permits and other documents required by countries of entry or transit.
10. Pets are accepted at owner's risk and the airline is not to be held responsible in the event of such pets being refused entry into or passage through any country or territory.
11. The owner will be responsible for compliance with all governmental customs and health requirements, including quarantine arrangements at destinations for which they can also take help of various agents.
12 The owner also is required to assume all the risks of injury, sickness or death of the pet accepted for carriage. A declaration indemnifying the airline is also obtained from the passenger.
13. The owner must ensure their pets meet the quarantine requirements. Pets may be subjected to quarantine at the destination at the owner's expense.
14. A trained dog or a service dog to assist blind or deaf passengers is generally carried free of charge in addition to the normal free baggage allowance.
15. Only one service dog per flight is generally permitted.
1.1 Documents required:
1. Health certificate from a qualified veterinary doctor.
2. Letter/certificate from the veterinary doctor stating the animal's fitness for carriage by air.
3. Vaccination / Immunization record with Rabies vaccination date.
4. A declaration indemnifying the airline with the owner/passenger assuming all the risks of injury, sickness or death of the pet accepted for carriage, will be obtained from the passenger.
5. Other documents may be required, depending on local regulations.
6. All documents must be in English unless otherwise specified.
It is also to be noted that some airline policy prohibits certain aggressive breeds of dogs, hybrid dogs/cats, short-muzzled dogs, for transport by air.
Some such restrictions may be on:
1. Females with suckling young and un-weaned animals.
2. Weaned puppies/kittens under 12 weeks.
3. Animals may be accepted on certain type of aircrafts only.
Note: Pregnant animals are not permitted
1.2 Breeds of dogs and cats generally forbidden for carriage:
Certain breeds of dogs and cats, including short-muzzled dog breeds, as these animals are known to be susceptible to increased risk of heat stroke (when exposed to stress or changes in temperature), breathing difficulties or increased travel stress:
A list of short-muzzled dog breeds and their cross-breeds, which are not permitted include:
1. All Boxers, Bulldogs, Mastiffs & Spaniels
2. Akita
3. Brussels Griffin (Petite Brabancon)
4. Chow Chow
5. Dogo Argentino
6. Fila Brazillero & their crosses
7. Japanese Chin (Chin, Japanese Spaniel, Japanese Pug) and all other breeds of Pug
8. Lhasa Apso
9. Pekinese
10. Pit Bull
11. Rottweiler
12. Shar Pei
13. Shih Tzu
14. Tosa
The following cat breeds and their cross-breeds which are not permitted:
1. Burmese
2. Exotic
3. Himalayan
4. Persian
2.0 Security Requirements:
All animals must be scanned /screened with a Hand Held Metal Detector (HHMD) prior to acceptance for carriage by air as baggage / freight.
And the kennel is also passed through the X ray machine to check for any restricted/ prohibited items.

What to feed your pet before flight : A full stomach might be uncomfortable for your pet during travel. Feed your pet a light meal and a small drink approximately two hours before dispatch and exercise your pet immediately before it goes into its container. While it's best to refrain from feeding your pet right before the flight, you can continue to give water right up to the time of travel.
Note: It is not an encouraged practice to use sedatives and tranquilizers in animals being transported either in cabin or cargo hold due to the potential for adverse effects during transport.
3.0 Role of Airport during carriage of pet
Airport personnel have the responsibility for the care of pets and handling of kennels during air travel. A number of factors are to be catered to in order to increase the likelihood that the pets arrive healthy at their final destination. These factors involve the appropriate care and handling of dogs and kennels (avoiding rough handling which may injure the pets inside) under both normal and extreme conditions. It is also their responsibility to maintain required distance from other pets while processing them.
Ventilation must be provided in any animal holding area, by means of windows, doors, vents, or air conditioning. Auxiliary ventilation, such as exhaust fans, vents, fans, blowers, or air conditioners must be used in any animal holding area when the temperature is higher than the optimum pre defined. Sufficient protection must be provided to keep the pets dry during rain or snow.
Conveyor belts used in loading or unloading planes, and other airport locations pose potential risks to pets in kennels. When a kennel is being loaded or unloaded from planes utmost care must be taken. A kennel must not be placed on any other conveyor belt such as a baggage claim conveyor belt.
Kennels should be protected from extreme sunlight and extreme heat and cold. Sufficient shade must be provided to protect the dog from the direct rays of the sun at all times.
Kennels must also be observed for their labels attached which include "Live Animal", "This Side Up" etc. and proper handling and routing.
In case of any emergency like illness of pet or pet becoming unconscious only licensed veterinarian should treat pets.
Hope you enjoyed reading the article. Also do not forget to hit the like button. And stay with us for more interesting articles.
For further reading on the subject visit : https://www.iata.org/en/programs/cargo/live-animals/