If you are an aviation enthusiast and you ever wondered "which aircraft is this or something like I have seen it at many airports but am a little confused as to which aircraft this is" then we have a solution for you. With this article we will try to know about the popular aircrafts spotted at Indian Airports and try to understand ways and means to Identify them.
This document contains the following parts:
1.0 Classification of Aircrafts
1.1 Freighter Aircrafts
1.2 Commercial Aircrafts
2.0 Tricks to Identify the Airliner
1.0 Classification of Aircrafts
The Aircrafts that you see at Indian Airports may be divided into two main categories Freighter and Commercial Aircrafts. Which are further classified into Wide Body Aircrafts and Narrow Body Aircrafts.
Let us try to understand each type of aircraft.
1.1 Freighter Aircraft
A cargo aircraft or a freight aircraft, freighter, airlifter or cargo jet is a fixed-wing aircraft that is designed or converted for the carriage of cargo exclusively rather than passengers. Such aircrafts usually do not incorporate passenger amenities and generally feature one or more large doors for loading cargo.
The types of aircraft utilized for air cargo can range from wide-body freighters to small turboprop "feeders."
Wide-Body Freighters: Accommodate containerized and palletized freight on upper and lower (belly) decks and typically operate at airports in major metropolitan areas. They are used on both short domestic and long transoceanic international routes and require long runways for takeoff and landing. This included aircrafts like B-747, B-777, B-787, A-380 etc.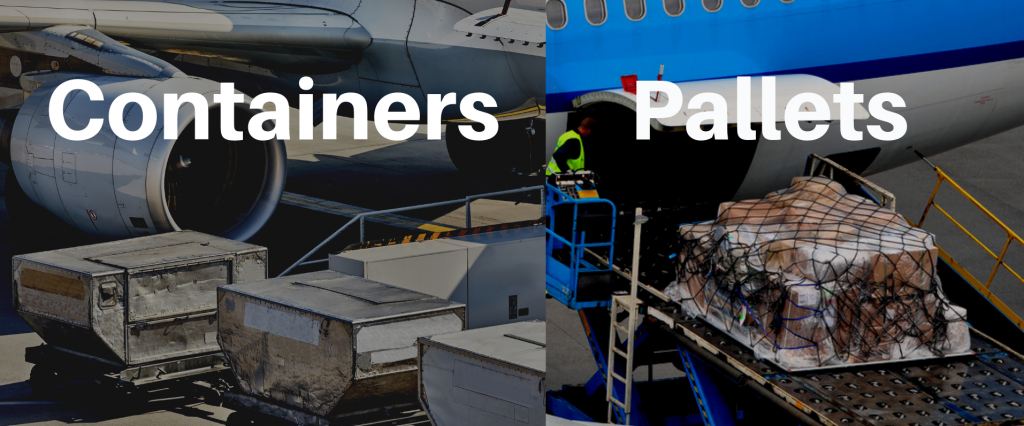 Narrow-Body Freighters: Accommodate containerized and palletized freight on upper decks only and are used primarily on domestic routes and serve smaller metropolitan areas and also require long runways for takeoff and landing. This Included Aircrafts like A-319, A-320, A-321, B-737 etc.
Another very important type of freighter is:
Feeder Aircraft: Express carriers, such as FedEx, DHL, and UPS also rely on feeder airlines that operate small aircraft to support transporting cargo to and from small to medium sized markets to cargo hubs. These aircraft are comprised of piston and turboprop aircraft and do not require long runways for takeoff and landing.
Lets peek into the fuselage of an freighter aircraft:
Integrated express carriers, as well as all cargo carriers, typically rely on both wide- and narrow-body jet aircraft to transport air cargo to domestic and international destinations. Freighter planes are made to carry only freight both on the lower and the main deck.
The freighter floors have embedded rollers to help slide the freight into position. Hook locking facilities are provided along the floor to secure the freight. Some of the freighters have winches built-in to help lift or lower freight, which is a big help to move and position heavy loads in the cabin.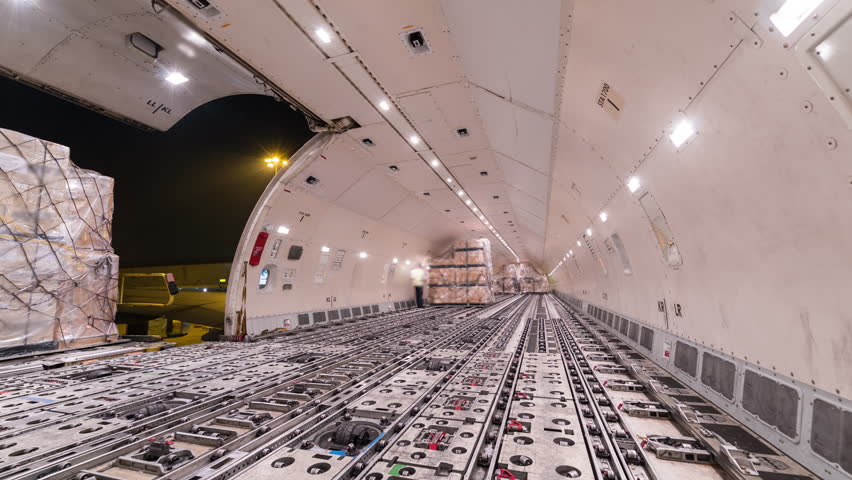 On passenger aircraft, freight goes into the forward and aft compartments and in the hold, which is right at the back. Doors are provided on the sides with varying amounts of clearance, depending on the type of aircraft.
1.2 Commercial aircrafts
1.2.1 Wide Body Aircrafts
Wide-body airplanes are those that have two or more aisles. Some wide-body airplanes have 250 seats, whereas others have 600 or more seats. A typical wide-body plane has a diameter of 5-6 m and has up to 10 abreast sittings. Regardless, the seats within wide-body airplanes are configured in multiple aisles. A typical wide body aircraft B747 can carry up to 238,840 litres of fuel.
Wide-body airplanes are generally used for long-distance flights. To accommodate multiple aisles, airplanes must be designed with a wide fuselage. And with a wide fuselage, they support larger and more powerful engines than their narrow-body counterparts. As a result, wide-body airplanes are commonly used for long-distance flights, including transatlantic flights.
A Wide body aircraft is capable of flying the longest route from New York City (JFK) – Singapore (SIN) which was flown by Singapore Airlines and had a distance covered of 9,537 miles within a flight time of 18 hours, 40 minutes.
Some of the most common types of wide-body airplanes include the following:
Boeing 747
Boeing 777
Boeing 787
Boeing 767
Airbus 330
Airbus 340
Airbus 380
The specifications of the most commonly found wide body aircraft in the Indian Airport i.e. the B747, A-380 and the largest aircraft in the world i.e. AN-225 are as follows:
The Antonov An-225 Mriya is a strategic airlift cargo aircraft that was designed by the Antonov Design Bureau in the Ukrainian SSR within the Soviet Union during the 1980s. It is powered by six turbofan engines and is the heaviest aircraft ever built, with a maximum takeoff weight of 640 tonnes. It also has the largest wingspan of any aircraft in operational service. This single example built has the Ukrainian civil registration UR-82060.

The Antonov An-225 was initially developed as an enlargement of the Antonov An-124 to transport Buran-class orbiters. The only An-225 airplane was completed in 1988. After successfully fulfilling its Soviet military missions, it was mothballed for eight years. It was then refurbished and reintroduced, and is in commercial operation with Antonov Airlines, carrying oversized payloads. 
1.2.2 Narrow Body Aircrafts
A narrow-body aircraft, also known as a single-aisle aircraft is an airliner with a cabin diameter of between three of four meters. This allows for up to 6-abreast seating, and down to 2-abreast. Their small size means that narrow-body airplanes are restricted to short-distance flights. You won't find many narrow-body airplanes performing long-distance flights. Since they are small, they lack the engine power and fuel capacity needed to traverse long distances. An typical narrow body aircraft of Airbus A321neo has a fuel capacity of 32,940 litre.
Some of the most common types of narrow-body airplanes include the following:
Boeing 707
Boeing 727
Boeing 737
Boeing 757
Airbus 319
Airbus 320
Airbus 321
There are also a number of executive airliners which utilise narrow body aircraft with luxurious private jet interiors, such as the Airbus A318 and A319, and the Boeing BBJ.
The specifications of the most commonly found narrow body aircraft in the Indian Airport i.e. the A320 family are as follows:
2.0 Tricks to identify the Airliner
2.1 What to Look for When Identifying an Airliner
With the increasing number of airlines in the sky, identifying them is becoming more and more tricky. Here are some details to look for when identifying an airliner, features that can help distinguish one aircraft from another:
Overall size of the airliner, e.g., narrow-body or wide-body
Jet or turboprop powered
Number of engines
Engine placement, i.e., under the wing or on the rear of the fuselage
Cockpit windshield design, i.e., number, placement and shape of glass windows
Landing gear arrangement, number of wheels, and fuselage height above runway
Number of entry doors along the fuselage
Number and location of emergency exit doors
Number and placement of passenger windows fore and aft of the wings
Winglets, and their shape and design
2.2 Airbus or Boeing
Before we proceed to type of aircraft it is worth identifying the manufacturer majorly for us Airbus or Boeing. This can be done by noticing the shape of the aircraft nose and the shape of the cockpit window.
Boeing aircrafts have an upwards slanting lower edge to the windscreen, which appears as a 'V' shape whereas Airbus aircraft windows have a straight/horizontal lower edge. There is also a diagonal 'cut' or 'notch' to the upper corner of the window on many aircraft.
Airbus aircraft tend to have a rounder, more bulbous nose whereas Boeing aircraft tend to have a sharper, more pointed nose.
2.3 Four Engine Wide Bodies
The most common aircraft under this category is the B747 and the A380.
A380 has a full upper deck, it is the largest passenger aircraft
B747 has a hump having the half upper deck also known as the queen of the skies
There are two variants of B747 the B747-400 and B747-800 the picture depicts how you can spot the difference between the two next time you see them.
A340 is a four-engine single deck widebody aircraft. There are four A340 variants of increasing size – the A340-200/300/500/600. Of these, the A340-300 is by far the most common.
The A340-200 and -300 have three passenger doors, and one exit door, on each side of the aircraft
The A340-500 and -600 have four passenger doors and one exit door. On the A340-500, the exit door is behind the wing; on the A340-600, it is over the wing
All variants have four-wheel main landing gears under each wing. The additional central landing gear has two wheels on the A340-200/300 and four wheels on the A340-500/600
Twin engine wide body:
B 767 and B777
The Boeing 767 and 777 can be hard to distinguish from a distance. They both have the typical features of Boeing's style, such as their windows and tails. The 767 is much shorter (the most common 767-300 variant is 55 meters long, compared to almost 64 meters for the shortest 777-200). The 767 has a two-wheel main landing gear, whereas the 777 has three wheels.
The 767 can sometimes be differentiated by its winglets. It is the only widebody aircraft to have winglets that curve up (with an 'L' shape). Not all 767s have these, however.
The 767-200 has just one exit door over the wing
The 767-300 usually has two doors over wing (some have one in front and one behind the wing)
The 767-400 has two doors, one in front and one behind the wing
The 767-300/400 also have retractable tail skids
The Boeing 777 (especially the 777-300) is often distinguished by its size. The 777-300 is the longest twin-engine jet currently flying. The new 777X will be even longer.
A great way to identify the 777 is its main landing gear wheels. It has three pairs of wheels on each gear. The doors are the key to identifying the two 777 variants. The longer 777-300 has five doors, and the shorter 777-200 has four doors along each side.
Dreamliner B 787
The 787 is an easier aircraft to identify, with several distinguishing features:
It has a distinctive four-panel windscreen.
It is the only widebody twin with serrated nacelles housing the engines.
It has a very distinctive smooth noose design.
It does not have winglets 
Distinguishing the three 787 variants is a bit harder. They have the same gears and numbers of doors. One way is to look at the number of windows between the first two emergency exit doors.:
The 787-8 has nine windows
On the 787-9 there is an additional second group of five windows
And on the 787-10, this second group has ten windows
Airbus 330
A330 has the following features : notched windshield window, two engines (one under each wing), one passenger deck the length of the fuselage, main landing gear fall to the rear, a "bulged' area between the wings, winglets, and a straight fuselage under the tail structure.
To differentiate the shorter A330-200 from the A330-300, look at the windows (this also works for the same-sized A330-800 and A330-900). The shorter model usually has 12 windows between the first two doors; there are 17 or 18 windows on the longer model.
These are the most common wide bodies spotted at Indian Airports. To know about the narrow bodies stay tuned until next weekend.

Hope you enjoyed the read. Aviation Avi – Go where you feel the most alive.