In the previous part of this article we went through the wide body aircrafts (if you have not read the part please have a look it will make your understanding better). Since COVID has curbed the passenger movement it become really tough for the airline operators to use wide body aircrafts ( since they have a greater load carrying capacity) in an efficient manner specially the aircrafts having more than two engines, and the use of narrow body increased many folds. This was vividly manifested by the IndiGo airline which placed a firm order for 300 A320neo Family aircraft. This marked one of Airbus' largest aircraft orders ever by a single airline operator.This latest IndiGo order comprised a mix of A320neo, A321neo and A321XLR aircraft. This will take IndiGo's total number of A320neo Family aircraft orders to 730.
Let's see what Ronojoy Dutta has to say, Chief Executive Officer of IndiGo.
"This order is an important milestone, as it reiterates our mission of strengthening air connectivity in India, which will in turn boost economic growth and mobility. India is expected to continue with its strong aviation growth and we are well on our way to build the world's best air transportation system, to serve more customers and deliver on our promise of providing low fares and a courteous, hassle free experience to them,"
As we all know the aviation industry after covid has started to rise and there will be a definite increase in the air traffic movements, so to cater all these and to make air travel cheaper and affordable to the common man, Indian aviation industry is shifting towards ULCC (ultra low cost carriers) concept with Go First as an example (previously Go air).
For ULCC to be a success the narrow body aircrafts are it's backbone with less TAT (turn around time), high fuel (ATF) efficiency, less crew requirements, highly advanced technology, great offer in leasing from manufacturers, etc.
1. What is a narrow body aircraft ?
A narrow-body aircraft or single-aisle aircraft is an airliner, permitting up to 6-abreast seating in a cabin below 4 metres (13 ft) of width. In contrast, a wide-body aircraft is a larger airliner usually configured with multiple aisles and a fuselage diameter of more than 5 metres (16 ft), allowing at least seven-abreast seating and often more travel classes. Narrow body aircrafts are generally made for economy class with few options for other classes such as first or business class.
The highest seating capacity of a narrow-body aircraft is 295 passengers in the Boeing 757–300, while wide-body aircraft can accommodate between 250 and 600 passengers.
2. Birth of Narrow Body Aircrafts
As we all know, necessity is the mother of invention and it's the same with the narrow body aircrafts, historically, in beginning in the late 1960s and till 1990s, twin engine narrow-body aircraft, such as the Boeing 737 Classic, McDonnell-Douglas MD-80 and Airbus A320 were primarily employed in short to medium-haul markets requiring neither the range nor the passenger-carrying capacity of that period's wide-body aircraft. Meaning these aircraft were deployed at a place were passenger transportation was important but since the wide body were not economical to fly with less number of passengers so these narrow body aircrafts started getting some importance in particular routes.
After some research and constant development in the engine capacity and efficiency the re-engined B737 MAX and A320neo jets offer 500 miles more range, allowing them to operate the 3,000 miles transatlantic flights between the eastern U.S. and Western Europe, previously dominated only by wide-body aircraft. Now this has opened vistas for different narrow body carriers to pitch in Norwegian Air Shuttle, JetBlue Airways and TAP Portugal opened up direct routes bypassing airline hubs for lower fares between cheaper, smaller airports and gave birth to Low Cost Carriers (LCC) and further to economize air travel the concept of ULCC was introduced.
3. Some of the most common types of narrow-body airplanes include the following
Boeing 707
Boeing 727
Boeing 737
Boeing 757
Airbus A320
Airbus A321
Airbus A320neo
Airbus A321neo
Let us look at them on by one and learn tricks to identify them.
3.1 Boeing 707
Although it was not the first commercial jetliner in service, the 707 was the first to be widespread and is often credited with beginning the Jet Age.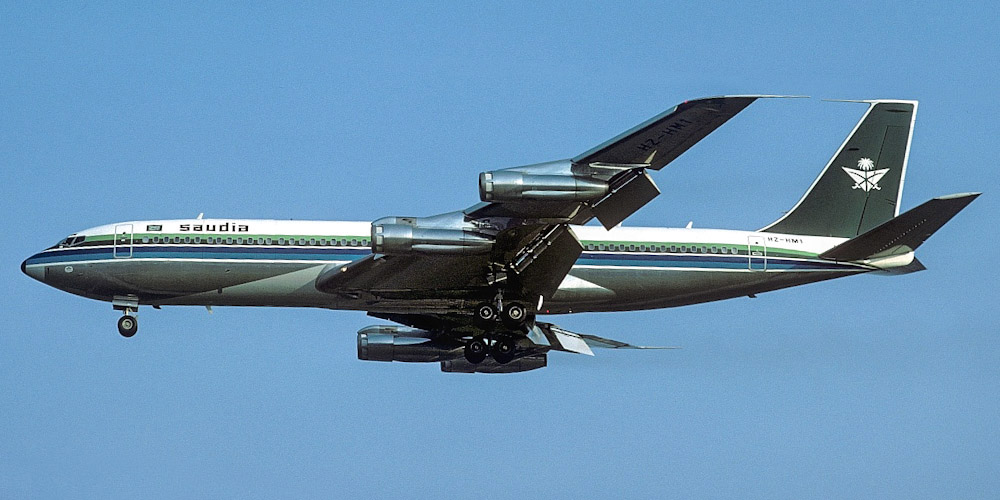 It dominated passenger air transport in the 1960s, and remained common through the 1970s, on domestic, transcontinental, and transatlantic flights, as well as cargo and military applications. It's length is 44.2 m and its wingspan is 39.9 m and fuselage width of 3.8m. It established Boeing as a dominant airliner manufacturer with its 7×7 series. 707 further had different models such as:
Short Range
707-120
707-138
707-220
Long Range
707-320
707-32Oc convertible to freighter
707-420
707s freighter
3.2 Boeing 727
This narrow-body airliner produced by Boeing Commercial Airplanes. After the heavy 707 quad-jet was introduced in 1958, Boeing addressed the demand for shorter flight lengths for smaller airports. On December 5, 1960, the 727 was launched with 40 orders in hand. Boeing's only trijet is powered by Pratt & Whitney JT8D low-bypass turbofans below a T-tail, one on each side of the rear fuselage and a center one fed through an S-duct. It shares its six-abreast upper fuselage cross-section and cockpit with the 707.
Varients are explained below:
727-100 = length 40.5 m, width 3.9 m approx, max pax 129
727-200 = length 46.6 m, width 3.9 m approx, max pax 155
Besides these, a freighter and a Quick Change convertible version were also offered.
3.3 Boeing 737
Developed to supplement the Boeing 727 on short and thin routes, the twinjet retains the 707 fuselage cross-section and nose with two underwing turbofans. Envisioned in 1964, the initial 737-100 made its first flight in April 1967 and entered service in February 1968 with Lufthansa.
As of October 2021, 14,868 Boeing 737 have been ordered and 10,815 delivered. Initially, its main competitor was the McDonnell Douglas DC-9, followed by its MD-80/MD-90 derivatives. It was the highest-selling commercial aircraft until being surpassed by the competing Airbus A320 family in October 2019, but maintains the record in total deliveries.
737-100/200 = 85 to 130 pax
737 Classic -300/400/500 = 110 to 168 pax
737 Next Generation (NG) -600/700/800/900 = 108 to 215 passengers.
737 MAX, 737-7/8/9/10 MAX = 138 to 204 pax
737 MAX – "Thought the latest but….

Maneuvering Characteristics Augmentation System (MCAS) causing two fatal accidents, Lion Air Flight 610 and Ethiopian Airlines Flight 302, in which a total of 346 people died. It was subsequently grounded worldwide from March 2019 to November 2020. Investigations faulted a cover-up of a known defect by Boeing, and lapses in the certification by the FAA. After being charged with fraud, Boeing settled to pay over $2.5 billion in penalties and compensation. On November 18, 2020, the FAA cleared the MAX to resume service, subject to a list of mandated design and training changes. Transport Canada and EASA both cleared the MAX in late January 2021, subject to additional requirements. In China, where the MAX was first grounded, the MAX has yet to resume service. Boeing produced over 450 MAX aircraft awaiting delivery by January 2020, about half of which are expected to be delivered in 2021, and the majority of the remainder in 2022.
3.4 Boeing 757
Narrow-body airliner that was designed and named as 7N7, a twinjet successor for the 727 (a trijet), received its first orders in August 1978. The prototype completed its maiden flight on February 19, 1982 and it was FAA certified on December 21, 1982. Eastern Air Lines placed the original 757-200 in commercial service on January 1, 1983. A package freighter (PF) variant entered service in September 1987 and a combi model in September 1988. The stretched 757-300 was launched in September 1996 and began service in March 1999. After 1,050 had been built for 54 customers, production ended in October 2004, while Boeing offered the largest 737 NG variants as a successor.
757-200 = length 47.3 m, width 39.9 m and 200 pax
757-300 = length 54.4 m, width 39.9 m and 254 pax
757-200s (Pax) have been modified for cargo use as the Special Freighter (SF) and the Precision Converted Freighter (PCF)
3.5 Airbus A320 family
Airbus A320 family are narrow-body airliners designed and produced by Airbus. The A320 was launched in March 1984, first flew on 22 February 1987, and was introduced in April 1988 by Air France. The first member of the family was followed by the longer A321 (first delivered in January 1994), the shorter A319 (April 1996), and the even shorter A318 (July 2003).
It has six-abreast cross-section. The family pioneered the use of digital fly-by-wire and side-stick flight controls in airliners. Variants offer maximum take-off weights from 68 to 93.5 t (150,000 to 206,000 lb), to cover a 5,740–6,940 km (3,100–3,750 nmi) range.
Fly-by-wire – semi-automatic, computer-regulated aircraft flight control systems that replace mechanical flight controls with an electronic interface
A318 = 31.4 m length, 107-132 pax
A319 = 33.8 m length, 124-156 pax
A320 = 37.6 m length, 150-286 pax
A321 = 44.5 m length, 185-230 pax
In December 2010, Airbus announced the re-engined A320neo (new engine option), which entered service with Lufthansa in January 2016. With more efficient turbofans and improvements including sharklets, it offers up to 15% better fuel economy. Earlier A320s are now called A320ceo
4. How to Differentiate by viewing ?
Previously we discussed various ways to differentiate between an Airbus and Boeing, and among many other kinds of wide body aircrafts, Click to View
Now let us try to differentiate between the following narrow body aircrafts most commonly seen aircrafts at Indian Airports :
A320 & A320 neo – The two major difference are the larger of the neo and winglets (sharklets) at the wing tips of neo. Both these features help to increase proper fuel burning and reduce wing tip vortex (drag), respectively.
737 & 737 Max – The engine cowling of the new 737 Max is some what similar to the 787 and the other prominent difference is the wing tip also has a two winglets up and down, to provide better drag resistance.
A320 & A321 – Very much similar in all aspects but still we could easily differentiate as A321 one has a door fixed just above the leading edge of the wings, which the A320 lacks due to the smaller fuselage length.
These are the most common narrow bodies spotted at Indian Airports. To know about the Private Jets stay tuned until next weekend.
Hope you enjoyed the read. Aviation Avi – Go where you feel the most alive.